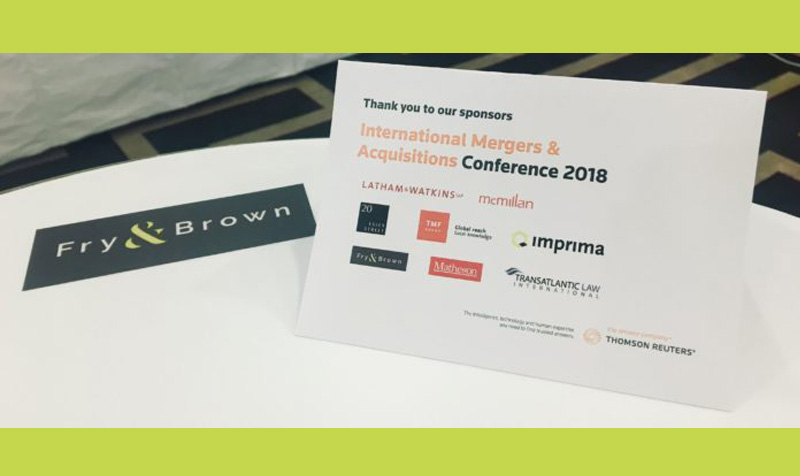 If you are one of those people who engage in networking, you will probably have met me and Jane at industry events over the years. We have regularly sponsored and attended various Legal Week, Thomson Reuters, Legal Business, IQPC and Ah! Media conferences as well as The Lawyer and Legal Week Awards ceremonies and The Lawyer Strategy Summit in Europe. Our recent ones include the International Mergers & Acquisitions Conference, The Data, Privacy and Cyber-Resilience Forum, The Insurance Law Forum and The Financial Services Forum.
We love them! As recruiters, we genuinely enjoy getting out there and meeting new people as well as better understanding the issues currently affecting the legal industry. And they can be great for those seeking their next opportunity too.
But conferences aren't for everyone. A whole day with people you don't know can be awkward. It is time consuming and not always all relevant. Work can be pulling you back to the laptop or phone and being sat in the one seat all day is uncomfortable! So how can you get more value from these industry events… and possibly even enjoy them?
1. Find the right conference for you
Speak to colleagues, bosses, sponsors and organisers and learn what the content is and who will be attending – the content needs to be good and relevant to you.
2. Know why you are going
What are you looking to get out of the day? Meeting peers, getting advice from experts, finding out what your competitors are doing, training, discussing topical issues, finding out who is hiring and meeting suppliers are typical reasons
3. Share your information
Provide your photo and bio to the organisers and sign up to the app, so that people who want to meet you are able to find you and more likely to follow up with you afterwards.
4. Arrive early
It is easier to speak to people at the beginning, and the people you speak to at this point can be a point of reference throughout the day. The organisers and sponsors will also be free to introduce you to the people you really want to meet at this point..
5. Move
Move seats for each session to meet an interesting array of people. Introduce yourself to everyone on your table and to new members as they arrive so that you have more options of who to speak to and develop an enviable network.
6. Engage
Take part in surveys and round tables. Ask questions, argue your point, share your experiences, make yourself memorable.
7. Talk to people in the breaks
Talk about the content – how relevant it was for you and what you got out of it. Grab the speakers if you get chance. Don't talk about the content – discuss the journey in, what's happening at work, whether you have been before, how it compares to other conferences, the food. Try to stay off your phone/laptop and be approachable. And if you look around you won't be the only one alone.
8. Offer your business card
Ok, so they are not that popular these days, but it might mean that you get a card back, and the direct line of someone who is really good to know.
9. Connect on LinkedIn
Connect with anyone interesting while your conversation is still fresh in their mind. This allows any interesting dialogue to continue and also gives you access to their networks.
10. Stay for drinks
At the end of the day you and everyone else can relax, conversation will be more comfortable and flowing and it will be easy to join a group. It is a good time to speak to key people for a de-brief who might have picked up some useful information during the day.
Remember that strong beneficial networks that enhance your career are built over years. Whilst recruiters hold a lot of vacancies, up to 50% of opportunities, especially at the senior end, never hit a recruiter's desk but go to someone already known. So maybe we'll see you at the conferences next year?