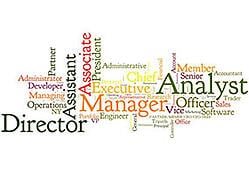 At Fry & Brown we recruit lawyers into the financial services industry and whilst many move between in-house roles, the majority are making the jump from private practice.
A major consideration for many of these lawyers is work-life balance and predictability of hours, with salary and package being the trade-off. But something that can be equally important to consider when making a move in-house is the job title – and this can often be overlooked.
Private practice titles are relatively transparent and easier to compare, with associates, senior associates, managing associates, directors, partners, and their equivalents. But in-house can be more complex and varied, especially highlighted by the diverse industries and the varying size of companies from start-ups to FTSE 100's. In addition to the in-house legal titles there are the corporate titles, which can be especially complex at large financial institutions with matrix reporting including analysts, AVPs and VPs, EDs and MDs. The Assistant/Associate General Counsel title is particularly confusing with the position being very senior at some organisations and quite junior at others. Smaller organisations without an existing legal team might not have even considered legal titles when you get to offer stage whereas larger organisations may have so many titles that you have no idea where you should be pitched, and often the structures are not logical.
What should you read into the title, and how important is it?
Entry level roles would normally be associate, assistant, or legal counsel and the "counsel" title, indicating that you are in-house, is probably always preferable to lawyer.
For most people it would make sense to aim as senior as possible. In-house legal departments tend to have flatter structures with less opportunity to progress until others move on, so make the most of your first move by aiming high. Whilst senior legal counsel, or equivalent titles are normally used for those 6 PQE and above, we've recently had lawyers from 3 years post qualified up getting a more senior title, but then at more bottlenecked legal departments lawyers with 9 or 10 years' experience are still struggling to move up.
Much depends on the size of business and hierarchy around you. Do your research and look at your peers on LinkedIn. But consider tenure at the organisation as well as seniority. How many others have that title? How long are people generally at the organisation before their job title changes? Is there evidence of lawyers moving sideways for promotion, and could you expand your skillset if you can't improve on title?
Senior Legal Counsel is a very common title and is generally understood to indicate competency and possibly some junior management responsibility. Sticking to a simpler title may make it easier when looking for your next role with people clearly understanding the level you are at and what you do.
The Legal Director title is fairly common in-house as well as being used in private practice but it's meaning can be quite vague. It will often be used for a senior or sole legal counsel role where the Head of Legal or General Counsel title may over-pitch it, although it can also be a very senior title. It's worth considering whether this title accurately reflects your role and if it will be understood internally and externally.
Head of Legal can be the most senior lawyer, or can report into a General Counsel, or be a sole lawyer. If you are the most senior lawyer in the organisation, it is worth pushing for the GC title, especially if you would expect any future roles to also be GC. General Counsel positions usually carry extra board level responsibilities and look after other departments and teams such as company secretarial, compliance and risk, but not always. However, it is worth being aware that GCs, like Partners in law firms, can struggle when looking to move on. A lot of hiring at this level is done through head-hunters and word of mouth so those actively looking can find it difficult. Even if you will consider a more junior title or a contract position, employers can often be put off if someone has previously had a very senior title.
Think about how you will be considered both internally and externally. You won't enjoy working in an environment where your peers feel that lateral hires are being brought in over their heads. A "head of" title sounds great, but what are you head of? A head of a team reporting into a more senior lawyer might be better than Head of Legal as the only lawyer. And whilst you want to aim for a senior title, make sure it is going to be understood and doesn't limit your future options. Accept that titles vary hugely in-house and are considered much more important at a US than a UK bank for instance, where what may seem like a step down could be the right move so long as it is correctly pitched within that organisation.
In truth, the right job title depends on the context, and most lawyers will have little choice anyway. But it is important that you feel comfortable that the title is accurate for the job that you are doing and the level that you are operating at.
To discuss your career options in-house get in touch with us at Fry & Brown
Tracy – tracy@fryandbrown.com – 020 3743 0695
Jane – jane@fryandbrown.com – 020 3743 0697