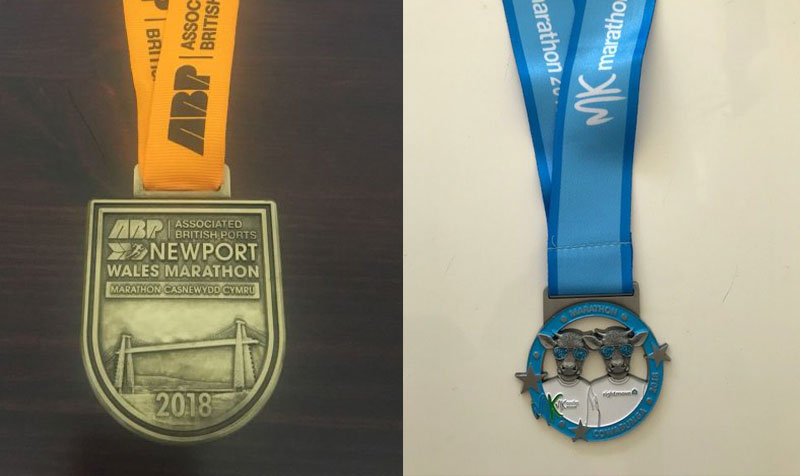 We like a challenge at Fry & Brown, so we decided to both train for marathons whilst setting up our new in-house legal recruitment business too. Here's how we got on…
Jane's Marathon
When I announced in February that I was going to sign up for my first marathon at the end of April multiple people questioned whether I would be able to fit the required training into an already jam-packed life juggling two very busy children and setting up a brand-new business. Fry & Brown took off quicker than we thought and initial projects had come in before we had even launched but completing a marathon was an itch that I knew would not go away, and after all, when is the right time? I had been in training for the London marathon back in 2008 when I fell pregnant with my first child and 10 years later, coinciding with my son's milestone birthday meant 2018 felt like my year!
I had completed a 100-mile challenge throughout the course of December for a local charity (Please Help Pippa – https://www.treeofhope.org.uk/pippa-atkinson/) so prior to entering had been in a good place training-wise. However, illness meant that 2 months before the event I had only managed a couple of 5 milers… only another 21 to go! Luckily being my own boss meant I could choose to run during the day and catch up on work early in the morning or late at night – often when lawyers are more able to talk. With Tracy also marathon training, we both understood the pressures of juggling. The unseasonal March snow didn't help build up the miles with 2 half marathons cancelled and the fear of slipping slowing me right down. This was followed by a shoulder injury sustained following a fall on a ski trip and another fall, flat on my face, during my last long training run. I was beginning to wonder if this was my year after all!
A longstanding client's advice – "Nothing to be scared of, the race itself is the party at the end of the training" made me determined to enjoy the day, and that I did! I loved every minute of my marathon, ran it a good deal quicker than expected and surprised myself by not being quite as broken as I expected afterwards. Now… did I run fast enough? Could another marathon be in my future?
Tracy's Marathon
Having been a keen triathlete for 10 or more years before the children, I have more recently become a keen supporter… until in May last year when I went along to watch some friends and family at the Milton Keynes Marathon. It got me! As the runners entered the MK Dons stadium for the final few hundred metres, the support and atmosphere were amazing. Apart from at the end of the Ironman, I had never done a marathon before and I just couldn't resist the challenge. Running had always been the strongest of the 3 disciplines for me and I'd always wanted to do a marathon before the peer pressure of learning to swim had set in. Ironically, I don't actually like running. But annoyingly, I am actually quite good at it. And it is a convenient way of keeping the guilt of not competing anymore at bay. (I would love to be good at a team sport, or even sprinting so that I could get it over and done with, but no- I'm all about the distance and have an ability to just keep going!)
And so, I entered the MK Marathon for 2018. I carried on doing my occasional short runs, not being able to manage much more than 5 or 6 miles, 2 to 3 times a week due to kids' schedules. The couple of half marathons that I did were terribly painful, and I had no desire to do anymore. A few weeks before the Marathon I did a 20-mile race and actually stopped at 12 miles and started walking home. I knew it was a mental thing, but I just couldn't get over it. As far as I was concerned there was no need to ever run longer than about 6 miles and I just didn't want to do it. It was only when I realised that walking was as painful as running that I decided to go back to the route and walked/jogged the rest.
I was ready to pull out. There were plenty of nicer things to do on a sunny bank holiday Monday and having just got back from holiday and with a kid's party planned for the same day, I didn't need any more excuses.
But the guilt set in again and I found myself at the start line. The temperature hit 28 degrees and without my phone I had no idea what my pace was, or how I was doing but I was determined to get to 20 miles before I walked, and that I did. The last 6 miles were a walk-run combination, but I was very pleased to make it over the finish line in 3 hours 39 minutes. I can't imagine what it was like for the runners towards the end who were out in the heat all day. Happy with my result (and finishing!), it was one of those things that I wasn't going to do again!
Until later that night my partner mentioned that I might be able to get a good for age entry to the London Marathon… Now, where did that mental stamina come from, and could I possibly find it again?
I guess like Jane, I'd planned on doing a marathon years ago and it was a thought that didn't go away in the same way as the thought of setting up our business together hadn't gone away. When you've waited 10 years for the right time to come you become pretty determined to make a success of it and it is a brilliant feeling when you achieve and make that goal and dream a reality.
Going the Distance
And our business, Fry & Brown is very much up and running and so we are already celebrating successes in work too. Whilst lots of our business so far has come from new contacts and it is great to work with some entrepreneurial and start up financial services companies as well as the larger banks, we have had great support and loyalty from the people who we have helped in the past- many of whom we placed when they were junior lawyers and are now in senior management positions recruiting for their teams. Introductions and recommendations have formed a major part of our success story over the years and I would ask anyone reading this to please put us in touch with any lawyers they think we might be able to help. Like running our marathons, we have really benefited from the support of those who knew we could do it and we feel incredibly lucky to have such strong networks in the industry.
If you are thinking of moving or hiring, or know anyone we might be able to help, please get in touch for a chat.